Special coatings SP
Aesthetic coating system, reduced by up to 50% application time.
Moisture protection MT
Release coating system immediate, improves the stability of the principle active through a moisture barrier.
Enteric NT
Enteric coating system, achieves reproducibility in compliance of different enteric tests.
EasyColor®
Fully formulated pigment system, guarantees the reproducibility of the color of your batch-to-batch product. Useful for different shapes pharmaceuticals, such as tablets, suspensions, soft gelatin capsules and pastes.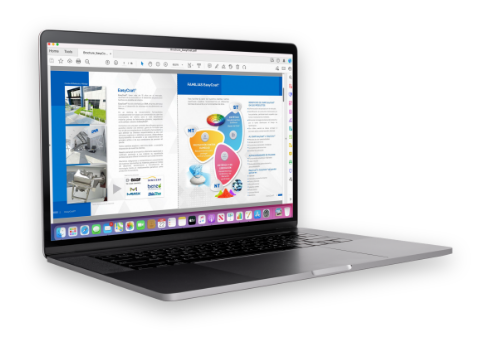 Product Catalogue
Download our EasyCoat® Brochure for important product details, application areas, samples, coating characteristics and preparation guidelines.
EasyCoat® has about 20 on the market,the result of the evolution in the development of pharmaceutical coating for products made to measure for the client.
EasyCoat® has been designed by DVA, a leading German company in the development of pharmaceutical coating systems in Mexico.
It is a system of preformulated coatingswith the intention of meeting the needs of the client, for which we use raw materials from global manufacturers, thus supporting the quality and supply of EasyCoat®.
We have a wide variety of polymers that allow us to design a wide range of formulas that are currently used in the pharmaceutical industry and that meet various requirements, such as tablet coating.
All our equipment and services are at the complete disposal of our clients.
Our staff is highly trained and qualified, putting their professional experience at your service to offer the solution you need.
Commercialization
Differentiation in the market and better
identification of individual products.
Functional
Enteric and controlled release
of the functional ingredient.
Protection
Useful to protect the principle
active against humidity.
DVA
GO FURTHER. TOGETHER.
DVA is the company behind EasyCoat®. We are a global chemical company with 50 years of experience. We develop intelligent solutions for complex markets and industries. Let us help you improve your pharmaceutical products, their efficiency and quality together we shape a better and sustainable future. GO FURTHER. TOGETHER.
Mission
At DVA we create and provide
constantly solutions that
contribute to the success of our clients
gaining their confidence through
technical support and service.
Vision
We continually improve so
that our customers and
suppliers prefer to be
business partners and so
help improve your results.
Objectives
Streamline the design and development of
medications in the form of
coated tablets, with solutions
unique, fast and custom designed.
Manufacturers
Our pharmaceutical coating system uses raw materials from the world's leading manufacturers that meet pharmaceutical quality requirements.