EasyColor®
Completely formulated pigment system, with which you avoid the incorporation of pigments separately in the production area, guaranteeing color reproducibility in your product batch to batch.
Likewise, it reduces process time and optimizes the amount of materials in inventory.
Applications
EasyColor® can be used to color different pharmaceutical forms (tablets, solutions, suspensions, soft gelatin capsules, etc.)
Description of the preparation
It is suggested to use EasyColor® at 1% (for more details, contact your Commercial Technical Executive).
Characteristics
Fine powder with characteristic odor.
This material is stable under normal storage and handling conditions and is not a hazardous handling material.
Store at a temperature not higher than 30ºC, in its original closed container.
Expiration: 2 years from the date of manufacture and if stored in tightly closed containers.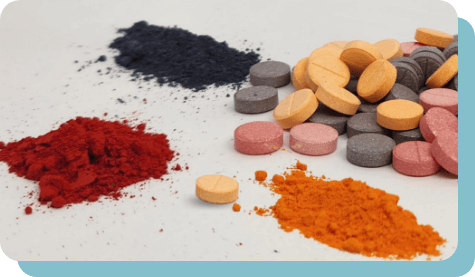 Presentation EasyCoat® / EasyColor®
High density Polystyrene bucket of 20L capacity (the content in kilograms may vary depending on the density of the product.
Samples from 0.1Kg to 1.0 Kg.